WELCOME TO MY PAGE
I'm Elizabeth Akinfiresoye, MPH
I am an Epidemiologist and Researcher by Profession. I have over 10 years of professional Health Care experience. I graduated from West Chester University with a master's degree in Public Health in HealthCare Administration.
My Public Health background led me into evaluating healthcare-related issues in public health and collaboration with medical health professionals to investigate health risks.
I am the founder of Impact Diagnostics Lab & Health Services and Impact Home Care. Upon Founding my two businesses, and the most recent one, I realize my calling as a Business Coach and Mentor.
READ MY STORY
Coach Eli Presents
HOW TO START A DIAGNOSTIC LAB
Fundamentals of a Diagnostic Lab Business
"I'm DOT certified I'm DOT certified 😎 hey guys. Your foot in the door to setting up your own lab. Get this class while the rates are still fair and before everyone gets on board before you do. I have known about this course years ago and didn't have the guts to look into it further. Elizabeth Akin dared me to take it and she helps you every step of the way. Let's kick fear out of the box guys. New business alert. You don't have to be a Healthcare professional to get into Healthcare. See you at the top and thank our new business beastie Elizabeth Akin for this flourishing opportunity. ✨️"
- Chauntay T Callwood
"I took Elizabeth Akin's DOT Specimen Course tonight and she did a fabulous job. I was skeptical at first because everyone just want to take our money and not give us anything. She is very knowledgeable and willing to answer all your questions. I will definitely seek her help with other information. She would be great to network with also."
- Tammy Grenier Mills
"All the hard work I put in is well worth it. I would like to thank my mentor COACH Eli for your patience and knowledge in helping me through the process."
- Tye Dowing
ONLINE COURSES
Elizabeth's School
Take control of your business with these comprehensive courses.
How To Start A Diagnostic Lab
Learn the fundamentals of a diagnostic Lab Business for both mobile & traditional setups!
LEARN MORE
Dot Specimen Collector
This course will go over the CFR 49 part 40 & skills necessary to conduct a drug test per DOT rules & regulations.
LEARN MORE
Starter Training Package
Get to know everything you need to start a drug testing business the right way in 2 week in a live session with Coach Eli.
LEARN MORE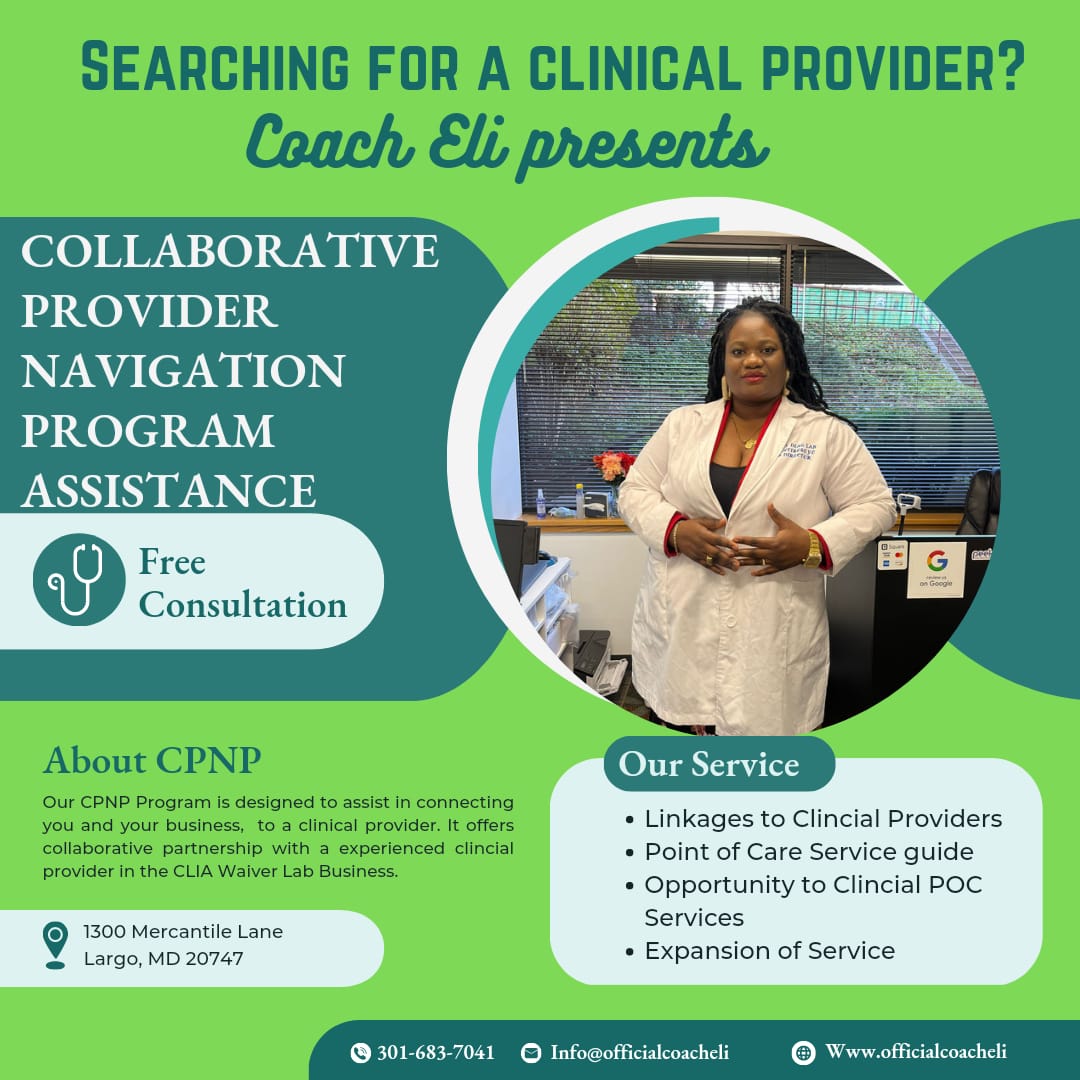 Collaborative Provider (CPNP)
My CPNP program is designed to assist in connecting you and your business to a clinical provider.
LEARN MORE
Hair Follicle Drug Test Training
Learn how to become an expert in hair collection training.
LEARN MORE
Teeth Whitening Training
Learning teeth whitening will serve as an additional revenue to your business.
LEARN MORE
What is the recommended number of Lab Partners we should affiliate with for DOT collections?
Do I need to be a Nurse or Medical doctor to own or start a Diagnostic and/or drug testing business?
What Services can I provide in a Diagnostic Lab?
What Services can I provide without collaborating with a provider?
How much do I need to get this business started?
How long is your DOT Specimen Collectors Course?
How many years is the Specimen Collector Certificate good for?
Can I start by offering mobile lab services?
Do you offer mentorship and one on one coaching?
How soon can I start the business?
For CLIA application, do I need a doctor or nurse practitioner as the lab director?
Do Coach Eli offer a Turnkey Service?
SERIOUS NEWSLETTER
Get
morning inspirational, motivational, business tips

.
You're safe with me. I'll never spam you or sell your contact info.